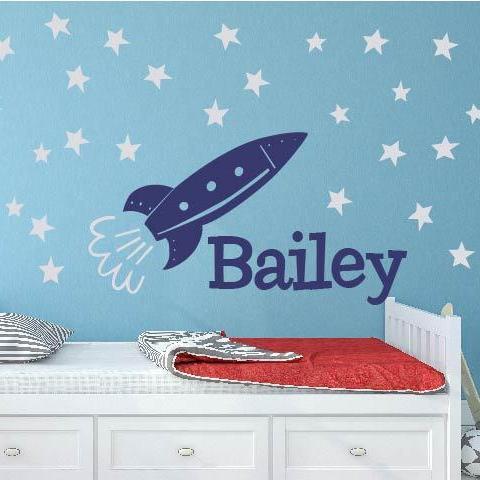 Space Star Rocket Name Kids Wall Decal
Space Wall Decal, Rocket Name Large, More COLOR choices, Space Wall Decal Nursery, Rocket Stickers, Personalized with whimsical stars and a rocket ship.
COLOR CHOICE 1 - ROCKET AND NAME
COLOR CHOICE 2 - STARS (16) 
We like to go BIG! Our vinyl wall decals are a cut above the rest by offering much larger sizes so they actually look as good as they do in the picture! All of our designs are created by us and customized by you! By choosing your own colors, font and size you are able to make it uniquely yours!
Shown in 28" with an additional set of stars. (ORDER HERE)
The sizing of this wall decal is measured by the height and width if applied as shown. The stars will arrive as peel and stick on one sheet for ease of application and not spaced as shown; that way you can apply them anyway you like. If you want the stars pre-spaced as shown there will be an additional cost.
16" H x 25" W - Rocket 12" x 5", Name up to 16" W (height will depend on name): 16 Stars 1" - 1.75"
22" H x 35" W - Rocket 17" x 7", Name up to 22" W (height will depend on name): 16 Stars 1.75" - 2.25"
28" H x 48" W - Rocket 22" x 9", Name up to 28" W (height will depend on name): 16 Stars 2" - 3" 
36" H x 62" W - Rocket 28" x 12",  Name up to 36" W (height will depend on name): 16 Stars 3" - 4"
 We have found that most other decal companies and designers do not offer the size that is displayed in the picture. But we do!! 😉 Be sure to take note of our sizing guide if you want your wall decal to look as good as it does in the picture!
Numerous color choices are available for every design in a matte finish. We use the highest quality thin non-toxic vinyl with a low tack adhesive that is cut out without a border or a background, which gives you that hand painted look.
Our designs can be used on most lightly textured surfaces such as painted walls, mirrors, glass or any non-porous smooth surfaces. Vinyl wall designs may not stick to grainy, sandy porous surfaces or certain paints with Teflon, Silicone or other additives to make the paint stain resistant. See FAQ's for more details.
A sample to practice and test to make sure it will adhere to your surface.  
If only height is noted the width of the design will depend on the name (contact us if you would like to know the exact dimension). Some items may need to be cut apart to achieve the exact look. Designs with multiple colors may come with more than one sheet and need to be layered.
Proudly designed and manufactured in the U.S.A.